Fortress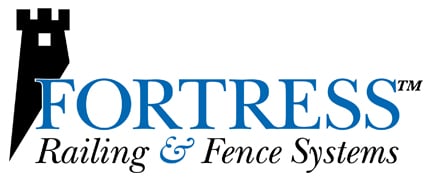 Fortress Railing Products, a division of The Fortress Company, is committed to developing innovative, quality products specifically for the railing industry. It is very proud of its vast distribution network, commitment to code testing, innovative product design and the strength of the Fortress Railing Products brand. As a respected category creator and industry leader, Fortress Railing Products offers a complete line of railing solutions that encompasses 6 distinct categories.
Fortress Fe26 Iron Railing is an easily customized version of a traditional welded railing system that brings unparalleled quality, speed of installation and beauty to any patio, deck or balcony.
An extension of the Fe26 family, Fe26 PLUS brings the same features and benefits to the multifamily and commercial segments.
Fortress Railing Balusters attractively integrate into wood, composite, vinyl or metal railing systems.
Fortress Al13 Aluminum Railing, the newest addition to the Fortress Railing Products family, is a first of its kind, innovative fully welded aluminum railing system.
Fortress Pure View Glass Railing System combines the ultimate view of surrounding scenery with the durability of tempered glass and decreased labor due to pre-slotted rails.
FortressAccents is a unique line of post caps and LED lighting that will transform any outdoor living space with its high quality post caps and subtle, energy efficient LED lights.
Whether your needs are for residential, multi-family or commercial railing, Fortress Railing Products has the right railing solution to meet your needs.
The Fortress Company is an innovative building products manufacturer focused on supplying and servicing the growing railing, fence and building product industries in North America. It consists of Fortress Railing Products and Fortress Fence Products divisions as well as an associate company, OZCO Building Products. Based in Texas, The Fortress Company grew from a family of building materials companies with over 40 years of combined experience in building products supply and design, and has established a reputation for quality. Already boasting over 400,000 square feet of production facilities, The Fortress Company Headquarters & Distribution Center now boasts a total of 80,000 square feet of inside storage as well as 1.5 acres of paved outdoor storage.